Bulker cranes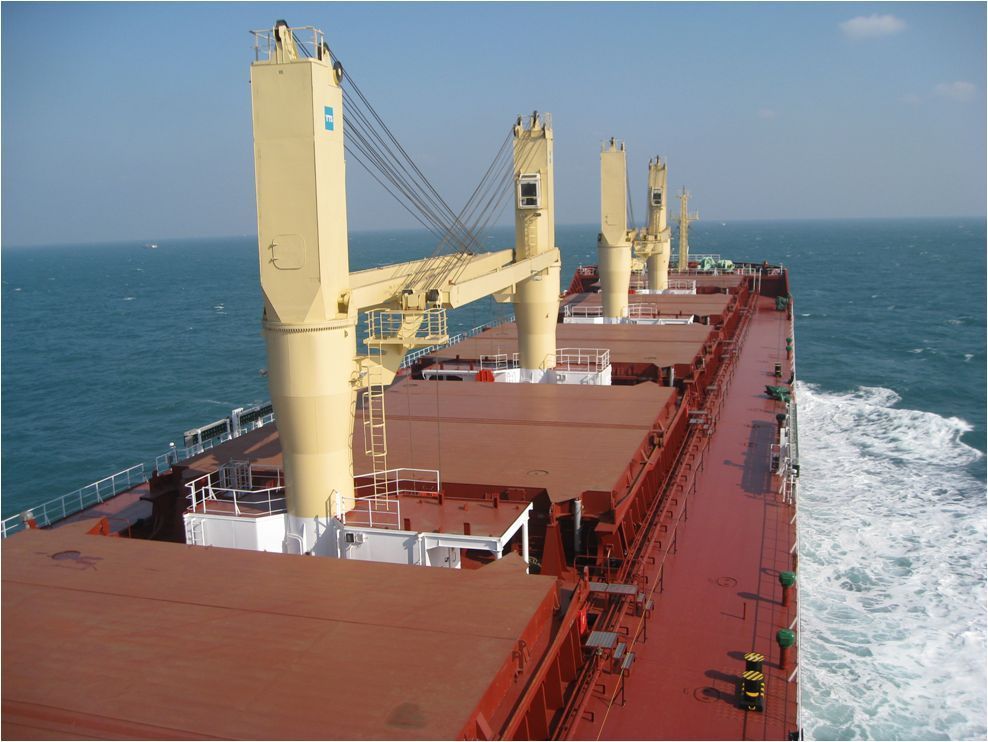 TLB – Electro-hydraulically driven Bulker cranes up to SWL 50t
| | |
| --- | --- |
| Capacity: | SWL 30 - 50t |
| Operation: | Bulk Carrier |
Characteristics:
The TLB bulker crane is characterized by high cycle times and robust design. Like all TTS cranes, the TLB has an unlimited slewing range of 360˚ and the equipment and machinery is mounted inside the crane housing to protect it against maritime atmosphere. Operation in the first layer on the winch drum ensures a long lifetime of the wires.
The TLB crane is equipped with proven TTS electronic control PLC (programmable logic controller) and digital operation display in the crane cabin as standard. All movements can be done simultaneously and are step less operated. To ensure a safe workflow the TLB has an automatic speed reduction of hoisting and luffing before the limit switch is activated. Additionally the driver's cabin is protected by a security cage.
Additional features:
Air condition in drivers' cabin
Anti-collision system
Remote maintenance system
TLB – e – Electrically driven bulker cranes up to SWL 45t
| | |
| --- | --- |
| Capacity: | SWL 30 - 45t |
| Operation: | Bulk Carrier |
Characteristics:
Based on successful TLB design the TLB-e is a further development in TTS crane portfolio. As part of the TTS e-line, all major parts of the TLB-e (hoisting- and luffing winch as well as slewing motors) are electrically driven.
One of the major benefits of the TLB-e crane is an improved energy efficiency compared to a conventional hydraulically driven crane. One the one hand it is based on less absorbing energy conversions, means that energy from ship generator must not be modified to hydraulic pressure and can be used directly for crane operation.
On the other hand the TLB-e needs no permanent basic hydraulic pressure, means that energy is consumed only if the crane moves. In combination with usage of reverse power during lowering cargo the benefits for bulk operation are significant.
Another major aspect is the reduction of running costs for maintenance as changing of hydraulic oil, filter and hoses is not needed anymore.
High cycle times, a lower noise level and easy operation due to standard controller complete the TLB-e characteristic.
Additional features:
Air condition in drivers cabin
Anti-collision system
Remote maintenance system
Type V – 4 rope bulker cranes up to SWL 40t
| | |
| --- | --- |
| Capacity: | SWL 25 - 40t |
| Operation: | Bulk Carrier, Transshipment Barges |
Characteristics:
This 4-rope grab crane is designed to provide excellent visibility for the crane operator as well as safe and efficient cargo handling. TTS 4-rope grab cranes are designed to operate under rough environmental conditions and to handle with a higher volume of cargo compared to conventional deck cranes.
Additional features:
Air condition in drivers' cabin
Anti-collision system
Remote maintenance system