麦基嘉电动解决方案可提高可持续性和盈利能力
26 12月 2022
阅读时间

计算文字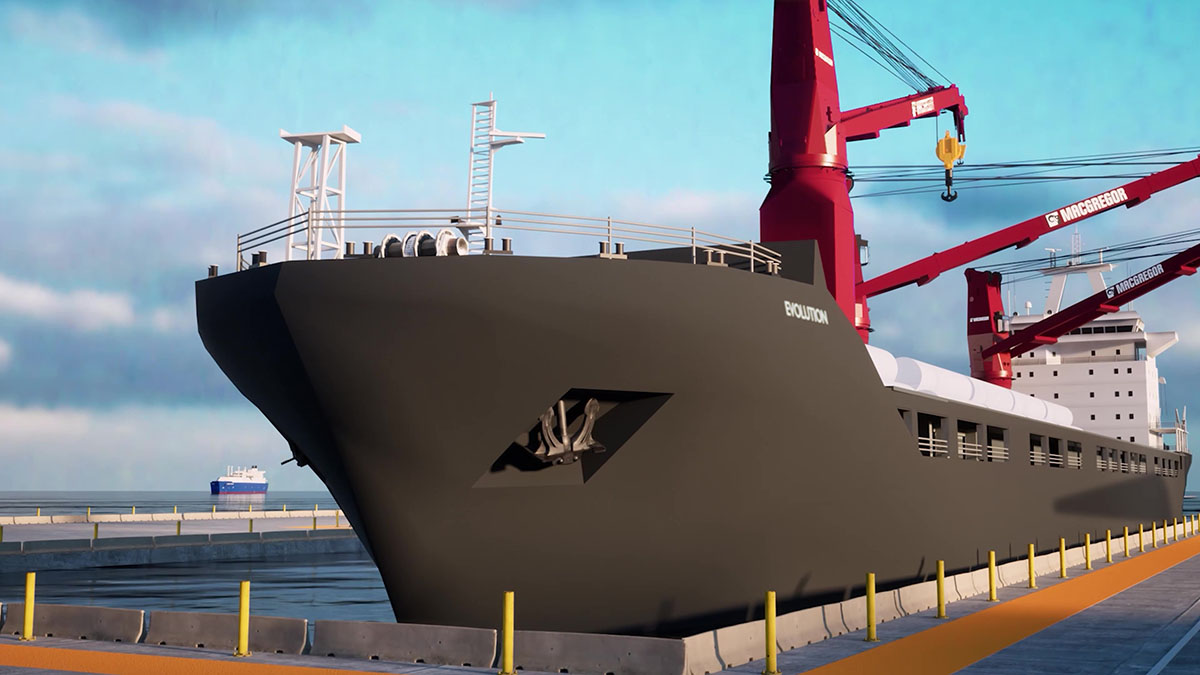 MacGregor's commitment to providing cargo and load handling solutions that are increasingly environmentally sustainable extends across its product, service and support portfolio.
MacGregor's vision is to be the leader in maritime cargo and load handling by supporting customers through a comprehensive and environmentally sustainable portfolio of products, services and solutions.
Sustainability related work is focused in three primary areas:
Customer emissions reduction achieved through improved asset utilisation and operational efficiencies

Energy efficiency improvements in equipment during the use phase

Sourcing and manufacturing emissions reduction
The company is committed to the provision of solutions that are increasingly environmentally sustainable through the electrification of our portfolio, responsive global services and the development of innovative digital services that support our customers' business activities and growth objectives.
Benefits of electrically-driven cranes
MacGregor has delivered more than 500 electric cranes since 2007, with electric motor and drive system technology evolving significantly during this time. These developments have enabled the winch design, motor efficiency and cooling system to be further improved.
As a result, the next generation electric crane is 15% more efficient than the first generation and up to 50% more efficient compared to the traditional closed-loop hydraulic design.
Variable Frequency Drive benefits for shipbuilders, owners and operators remain the same:
Potential savings in capital expenditure through reduced generator size, smaller electric cables and no oil filling

Superior cargo handling efficiency due to higher speeds and precision control, reducing time in port

Increased operator & crew comfort though significantly reduced noise levels

Lower maintenance costs without the need to change oil, oil filters, and hoses

A sustainable choice that removes the risk of oil leakage

New electric transloading crane completes series
The new electric transloading crane is a result of combining decades of extensive customer experience. Launching this crane finally closes the gap in MacGregor's electric crane portfolio and enables offering the most efficient cranes up to SWL 50t in this demanding segment.
Transloading cranes are used for heavy duty work in areas with draft restrictions or limited infrastructure. Consequently, the cranes typically run 24/7 to ensure the most efficient handling of bulk material.
By electrifying the drive system, the new crane brings efficiency to the next level. It consumes some 60% less energy compared to a hydraulic drive system.
Electric drives are available for all merchant cranes in the MacGregor portfolio, including port, bulker, container, multi-purpose, and heavy lift cranes.
In addition, all-electric cranes can be connected to the MacGregor OnWatch Scout service.
Comprehensive global support
OnWatch Scout is a MacGregor service which connects installed equipment to advanced monitoring systems that continuously analyse component condition and predict maintenance needs. The system detects patterns in equipment behaviour which, through a combination of extensive experience, technical expertise and the application of artificial intelligence, can identify changes that indicate risk of failure.
The service is one component of the comprehensive global support that MacGregor provides through more than 800 specialists based in 60 service centres in 31 countries.
Locally-based support is integrated with remote technical advice and condition-based monitoring to maximise equipment availability and minimise unplanned downtime.
"The core of our business is to develop, deliver and support innovative solutions such as the range of fully electric cranes and OnWatch Scout. These contribute to the efficiency and profitability of our customers' business and enable progress towards more sustainable shipping,"
says Magnus Sjöberg, Senior Vice President, Merchant Solutions Division, MacGregor.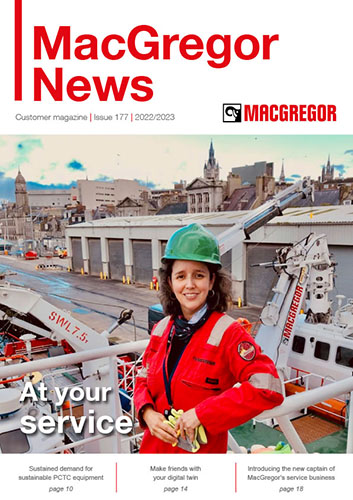 This and further articles in our latest edition of MacGregor News include:
Make friends with your digital twin

Service exceeds expectations for China's new generation drilling rig